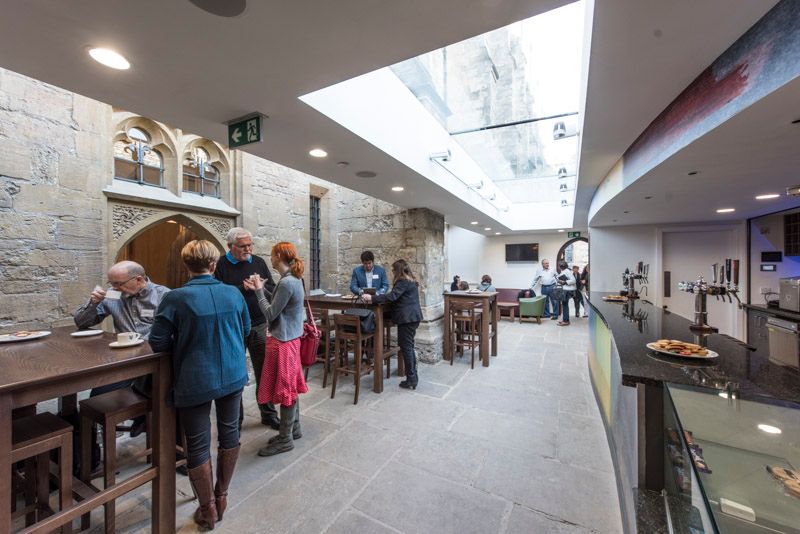 Hall opening hours
Breakfast
8am – 9am (Monday to Friday)
Cooked, continental and cereal breakfasts are available
Brunch
11am – 1pm (Saturdays)
10am – 1pm (Sundays)
Lunch
12.00 pm – 1.30 pm (Monday – Friday)
Hot lunches, snacks and cold buffets are available

Informal Hall

5.45 pm – 7.15 pm (Monday, Wednesday)
5.45 pm – 6.30 pm (Tuesday, Thursday, Friday, Saturday, and Sunday)
Self-service
Formal Hall
7.15pm (Sundays, Tuesdays, Thursdays)
Waitered service
Gowns must be worm

Outside of term, Hall operates restricted hours. These will be circulated closer to the date and posted in prominent locations around College.
If you live in catered accommodation you are charged £456.60 for 60 evening meals  (Tuesday of 0th week to Friday of 8th week) in advance on battels. Each evening meal costs £7.61 (including the kitchen charge). If you sign out you receive £5.14 back (as the kitchen charge is non-refundable). If you live out or in self-catered accommodation, you are charged the full £7.61 when you sign in.
You must sign out of or onto dinner by 10am on the day. If you are signed out of dinner and decide to go you will be charged a £2 fine on battels.
JCR Guest night is every other Friday. Dress is smart and gowns are not required. The cost of this is £17.05 and £22.20 for guests that are not students at the University of Oxford.
You can specify your dietary requirements in advance on the meal booking website. If you have particular needs, you can contact the Catering Manager (brian.cole@new.ox.ac.uk).
Breakfast/brunch and lunch are charged on a pay per item basis onto your till account. You have £15 credit on your till account in the buttery.